Naseeruddin Shah is arguably among India's greatest actors. His performances both on-screen and even on the stage are legendary. He is also a fine writer. His 2018 autobiography 'And Then One Day' is easily one of the best memoirs written by a Hindi film actor. And as is well known, he also has a keen eye for cricket and strong opinions about the game and its players. He even had his cricket show called Mid Wicket Tales on Epic Channel, which ran for 26 episodes, a few years ago, featuring a long list of cricket legends, both past and present. 
Read More: Naseeruddin Shah Is Suffering From Onomatomania, Says It Doesn't Let Him Sleep
Naseer, of course, is not a great fan of the frenzied shorter versions of the game, preferring to savour the subtleties and nuances served up by the traditional game. We chose to explore this aspect of Naseer's life in this intimate conversation recently at his Bandra residence in Mumbai, with cricket writer Sunil Sampat (The conversation took place on the eve of the India-New Zealand WTC finals last month).
Sunil's history with the game stretches back to the late 1940s, when his father was the Secretary of the Madhya Pradesh Cricket Association when they lived in the then state capital of Nagpur. He started watching Test cricket in the 1950s. The likes of  Vijay Merchant, Vinoo Mankad and Lala Amarnath were often his house guests. His interest hasn't waned despite the passage of time and the significant changes in the game in the last few decades. 
Excerpts:
Naseeruddin Shah (NS):How long have you followed the game?
Sunil Sampat (SS): I have been very lucky and have seen just about every notable Indian cricketer since India's independence, except perhaps a few in the 1960s when I lived abroad.
SS : I see from your excellent Television show Mid Wicket Tales that you are a dyed in the wool cricket fan. The cricket bug is well and truly in your system.
NS: Oh, the bug is well entrenched in me, although it doesn't translate into much enthusiasm for the 'IPL format.'
SS: Why not?
NS: It is very hard to have any loyalty to a team. They keep buying and selling players.
SS: Well, that is the nature of franchise sport. In the US, their popular sports – baseball, basketball, American football, Ice hockey are all franchise sports. They have been around for a while, and fans create their loyalties. I agree they are not like national team sports.
NS: Not just the franchise aspect, some of the wild strokes invented are not attractive at all. It's just bang-bang at any cost. I particularly dislike the 'switch hit' where a right-handed batsman can suddenly play left-handed to get an unfair advantage. The poor bowler has to announce whether he is bowling left or right-handed, over or around the wicket — otherwise, he is no-balled. Surely the laws must change!
SS: I agree, but it is a batsman's game. Fred Trueman had once remarked that the last bowler to be knighted was Sir Francis Drake. However, the switch hit is a very difficult shot to play.
NS: Yes, they change their grip to play left-handed. It has to happen quickly. Still, it is an unfair advantage, not something I associate with cricket.
SS: Speaking of which, the batsman has very little time to face a fast bowler. It must take enormous skill and talent to switch hit.
NS: Absolutely right. I have always been intrigued by the very fast bowlers. I was once shooting a film with Sunil Gavaskar and asked him how he faced a real quick bowler like Malcolm Marshall. He said there is no time to think, just time to react. The ball leaves the bowler's hand and is at you in a fraction of a second. That is why we practice, practice, practice and work on reacting. You can only react. There is absolutely no time to think about one's response. Quite amazing.
SS: The concept of the speed of a cricket ball approaching you is not experienced by the average spectator.
NS: To get an idea of this great velocity, let me narrate a personal experience. I was playing a doubles tennis match. Leander Paes was my partner. Our opponents were Mahesh Bhupati and Amitabh Bacchan. Mr Bacchan must have been a good player once. He had the strokes but was rusty. But the pros were going quite easy on us. It was obvious that they were giving me easy lobs, and I somehow managed my returns. After the game, I asked Bhupati to serve to me as he would in a tournament. He was very reluctant, but I insisted. He said, fine, I'll serve you a fast serve, but please stand to one side, nowhere near the path of the ball. I stood aside and watched him serve. It was a good thing I was away from the trajectory of the ball; I saw Mahesh throw up the ball to serve. The next thing I knew, the ball hit the wall behind me. I just never saw the ball at all! That's some speed. And then in cricket, the ball is so much harder and comes at the batsman.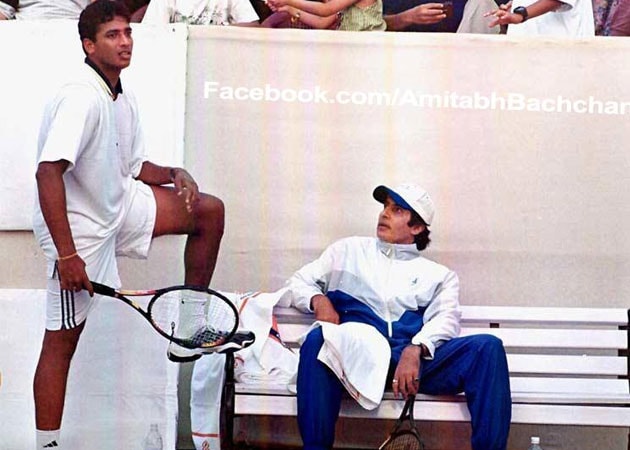 NS: India never produced a fast bowler till Kapil Dev. I've always wondered how Pakistan could produce fast bowlers one after another while we could not produce even one.
SS: Not true. We had a few before Kapil.
NS: You mean Mohammed Nissar? That was pre-war!
SS: Nissar, yes and Amar Singh in the 1930s. Later we had Dattu Phadkar, who played for over a decade. There was Ramesh Divecha in the 1950s. He went on the 1952 England tour under Vijay Hazare. The English batsman Tom Graveny was something of a 'bunny' of Divecha's. He got him out a number of times in the Test matches. Then there were Ramakant Desai, a small built but fairly quick bowler and Surendranath, who swung the ball late but was not as fast as Desai. In the Lord's Test in 1959, Desai and Surendranath had England at 98 for 8 on the opening day. Sadly, there was no third seamer, and England got away.
Then, there was Ghulam Guard, a Bombay policeman who was a left-hand opening bowler. In the first Test against Alexander's West Indies team of 1958-59, Guard had Garry Sobers caught and bowled on the first morning. Sobers was trying to pull a short, pitched ball, played too early, and the ball lobbed back to Guard off the back of Sobers' bat. Later, Sobers remarked that the ball came too slowly for a fast bowler! He finished his stroke before the ball arrived. I suppose that confirms your amazement at the Pakistan fast bowler factory, as it were.
NS: Fortunately, things have changed now, and we have some good fast bowlers.
SS: I think this trend will continue. We have a fair stock of fast bowlers.
NS: We have always had good spinners. Do you know anything about Jasu Patel — famous for his one Test performance against Australia, and VV Kumar?
SS: Jasu Patel was an off-spinner, a matting wicket specialist and not often in the reckoning for national duty. However, Lala Amarnath got to Kanpur for the second Test versus the Richie Benaud-led Australia in 1959, had one look at the wicket, and as chairman of the selectors, summoned Jasu Patel from Ahmedabad for the Test. Lala was an astute 'reader' of a cricket pitch. His reading here was spot on. Jasu Patel played, took 9 wickets in the first innings, five in the second and India won the Test. However, Patel did not have a smooth action and was a chucker. The laws about bowlers 'throwing' were nebulous and certainly non-technical (in terms of degrees of bend in the elbow). It was purely an umpire's call. There were several bowlers with suspicious actions at that time; Ian Meckiff and Gordon Rorke of Australia were prime examples. VV Kumar was a wonderful leg-spinner from Madras. He took many wickets in Ranji Trophy cricket and was a match-winner. However, with Subhash Gupte around in the same era, VV Kumar never got a look in until after Gupte emigrated to Trinidad. Even then, Subhash's younger brother, Balu Gupte, was called up before Kumar. It was like Padmakar Shivalkar and Rajinder Goel, both high-class left-arm slow bowlers who never got a chance to play for India as long as Bishen Singh Bedi was around. I never understood the logic of not playing two high-class leg spinners or two left-arm slow bowlers in the same team. Speaking of spinners, you had discussed Baloo Palwankar in an entire episode of your TV show. Could you elaborate on the man?
NS: Palwankar Baloo's story is quite sad. He was a gardener in Poona, tending to the cricket ground and nets where the European team would practice and play. This was in the early 1900s. One of the Englishmen noticed Baloo turning his arm over in the nets and noticed something special. He was a left-hand spin bowler and was very good. Word got around about Baloo, and the Hindu team decided to induct him into their side. There was a major stumbling block, that of Baloo being a Dalit, belonging to a low caste. While playing for the Hindu team, Baloo was very effective, but off the field he had to keep a distance from the others, have his tea and lunch by himself and then have to wash his dishes himself. But he was apparently a great bowler.
SS: Caste, colour, and even 'class' got in everywhere. What an ugly shame.
NS: Shame indeed.
NS: Who are some of the older players you have seen that may have gone unnoticed?
SS: There was the very classy Rusi Modi, who was a prolific Bombay batsman. He didn't play enough cricket for India. Another fine Bombay batsman, Ramnath Kenny, went under the radar.
NS: Rusi Modi was a Parsi, wasn't he? How is it that so few Parsis  played for India? I once asked Diana Eduljee that question, and she had no answer.
SS: There have been quite a few, actually. Offhand, starting with Phiroze Palia in the 30s, there are Polly Umrigar, Nari Contractor, Rusi Modi, Rusi Surti, Farrokh Engineer, Jeejebhoy (wicket-keeper). There is a young Parsi bowler in the current India team in England, Arzan Nagwaswala, a left-arm quick from Surat. And, of course, Diana and her sister Behroze Eduljee in the women's team.
NS: Wasn't there a Ronnie Patel who played for England?
SS: Yes, there was. Come to think of it, for the tiny population of Parsis, they are better represented than some of the other communities.
Dear @SportRadioAS1 Here is more for you from my colleague @ShayanAcharya 👇
Arzan Nagwaswalla, a Parsi in Team India after 28 years https://t.co/aQjtMph1qF via @sportstarweb

— Vijay Lokapally (@vijaylokapally) May 7, 2021
NS: I suppose that is true.
NS: Do you remember Nigel Howard? He came to India as England captain. There were Graveney, Statham and perhaps Barrington in his side.
SS: Howard brought his team in 1951. Yes, Tom Graveney and Brian Statham were in that side. Ken Barrington came later with Ted Dexter's team a decade later. I have a photo of Nigel Howard's. He never played for England after his solitary tour!
NS: Of course, Graveney and Statham played for many years for England.
NS: Do you know much about Ramchand? Was he a batsman or bowler? Was he any good?
SS: GS Ramchand was a street-fighter type of cricketer. A medium-pace bowler and a good middle-order batsman. He scored a century in the first Test I ever saw against Australia, under Ray Lindwall in 1956, at the Brabourne Stadium. For me, it was his assertive captaincy that was admirable. His attitude rubbed off on the team and also on his successor, Nari Contractor. Ramchand was the first captain who played to win. Earlier captains had a much more defensive attitude, playing not to lose rather than to win. Of course, it was Contractor's successor, young Mansur Ali Khan Pataudi, who inspired his teams to compete on equal terms against all opponents, an attitude that changed Indian cricket a lot.
NS: What about Vinoo Mankad? How good do you think he was? I always remembered him for his record opening partnership of 413 with Pankaj Roy.
SS: Great cricketer, undoubtedly. Him and Roy held that record for a long time. It was threatened by the pair of Dravid and Sehwag in the Test against Pakistan. They got 410 runs, and the partnership ended when Sehwag got out trying to hit a six. I believe the new record is now 417, held by the South Africans.
Do you know of the interesting sequence of events resulting in Mankad being summoned into the Indian Test team in 1952 in England? In their wisdom, Indian selectors had picked an unknown left-arm bowler, Hiralal (Gassu) Gaikwad, in place of Mankad for the England tour. After Gaikwad failed miserably in the tour matches, the Indian team management got Vinoo Mankad to join the team. Fortunately, he was already in England, playing league cricket. He played the Lord's Test, made 182 and took a bundle of wickets in what is called "Mankad's Test". Vinoo Mankad was also rushed into captaining India against the West Indies at Madras when the designated skipper, Ghulam Ahmed, abruptly left the team. Mankad was not even in the original playing eleven.
NS: Have you asked Sehwag about Vinoo Mankad? 
SS: A few years ago, Man's World was doing a photoshoot with Sehwag, and I had gone along. I said to him that as I was speaking to him now, I had also interviewed CK Nayudu for a school's radio broadcast many years ago. He was confused about the name. Kaun? I repeated the name, and he said he'd never heard of him. "I don't know those old players."
I also asked Sehwag if he played bowlers with big reputations — such as Jimmy Anderson or Dale Steyn — with more respect. His answer was simple: "The bowler may have a reputation; the ball has no reputation. I just hit the ball". That sums up the man.
SS: We spoke of this 'cricket bug' that gets into one's system. For an outsider to your world of stage and screen, is there a similar 'acting bug' that also invades the system? How did you get into acting?
NS: I come from a family where my two older brothers were achievers, one was a fine athlete, and the other was brainy. I had to do something different, something special. I would have liked to play cricket at a higher level, but was never good enough. Then in school in Ajmer, I met Geoffrey Kendall (actresses Jennifer and Felicity Kendall's father who was then touring India with his theatre group 'Shakespearana'). That changed my life, and I decided to become an actor. About the acting bug getting into the system, it is the lure of the imagination, of becoming somebody else for a while, that does the trick. Yes, Imagination is the bug. The cricket bug is there because there is a resonance between cricket and life itself. There are parallels in the course of the two.
SS: With the T20 version as well?
NS: (laughs). Not at all. In fact, I think the multitudes who flock to the IPL are devoid of any cricket bug.
SS: I remember Tom Alter referred to the 20 over game as Tik20. He detested the T20 concept.
NS: The players have no loyalty; they are there for the money.
SS: When did you watch your first Test Match?
NS: Actually, I didn't get to watch a live match in India for a long time. The first Test I saw was at the MCG in Melbourne, Australia playing South Africa. Till that time, it was listening to radio commentary in the early days and then watching cricket on TV. The radio era was quite fascinating because one had to visualise the game in one's mind.
SS: Who have been your favourite commentators?
NS: Well, from the radio era, there was Vizzy, who was a disaster, but I remember Dev Raj Puri, Berry Sarbadhikari and some others.
SS: There were also Pearson Surita, Vijay Merchant, Setalwad and Dicky Rutnagar. Then, of course, there was the great AFS Talyarkhan, who would commentate an entire match all by himself. But what about TV commentators?
NS: I can't stand Gavaskar's TV commentary. He states the obvious and then repeats himself. I used to like that Blofeld character who would start describing earrings worn by spectators. It was amusing.
SS: Henry Blofeld was funny and entertaining. There are some great commentators like Richie Benaud, Tony Cozier, and Ian Chappel. And there was the very humorous Brian Johnson who did radio commentary, as did John Arlott. They all enhanced the watching or listening experience of the game. You're right; they created mental images of the game in progress before television.
SS: Tell me about any personal encounters with cricketers.
NS: There are quite a few, but the one that immediately comes to mind is Imran Khan. He was a fantastic cricketer, but I have never met a more self-obsessed man than him. He was all about Imran Khan; nothing else mattered. Either that or he would lecture endlessly on Islam or some other subject. There was never any dialogue or conversation with Imran. Just lectures. There was a time when I was invited by a friend to dinner at their home here in Mumbai. Imran was to be one of the guests. My son, Imad, who is a cricket fan, and an aspiring cricketer, was a young teenager at the time. He had just recovered from a major accident from falling off a train, and I asked if he'd like to meet Imran Khan. He was very excited and, carrying his cricket bat for an autograph, came along with me. I introduced Imad to Imran, who was quite indifferent to the boy. Through the evening, he never looked at or reacted to my son at all. I was very disappointed.
SS: When Pakistan won the 50-over World Cup in 1992, Imran lifted the cup and proclaimed, "I have won the World Cup."
NS: He was the exact opposite of Javed Miandad. I wonder how they got along.
NS: When did Frank Worrell become captain of the West Indies? What happened to Alexander, who had captained them in India?
SS: Worrell became West Indies captain first on the historic tour of Australia in 1960-61 when the first Test at Brisbane ended as a tie. Worrell became the first 'black' captain of the West Indies. Can you imagine that the West Indies had a "white captain" policy until 1960? On that tour, Gerry Alexander, their ex-captain, was Worrel's deputy.
NS: The colonial hangover prevailed for quite a while. The South Africans, of course, had their policy of apartheid. But they played Test cricket earlier.
SS: The South Africans only played the 'white' nations: England, Australia and New Zealand. Even Australia had their 'white Australia' immigration policy — which extended to not playing the original native Australians, the Aborigines. It was much the same with New Zealand.
NS: New Zealand never included a local Maori in their national team, did they?
SS: They have Ross Taylor, who is a Maori, but I'm not sure if there were others.
NS: Speaking of Frank Worrell, did you know that he played a small role in a Hindi film called "Around the World".
SS: I wasn't aware of that. Who made the film?
NS: Do you remember the one-time comedian Om Prakash? It was his brother who made the film. Om Prakash acted in it, and Worrell had a cameo appearance.
SS: Worrell was such a father figure to the West Indies team since taking over. It was him, who forged a bunch of highly-talented individuals into a strong force in world cricket. And he was a charming man. He had come to India with the Commonwealth Team in the mid-50s.
I have had the privilege of meeting him. He gave me an autographed photo of himself, signed to me.
NS: He did not come with the West Indies team?
SS: Strangely, no. When they came to India in 1947-48, Worrell was not in the team. But the other two famous Ws, Everton Weeks and Clyde Walcott, had come. I took a photo of three team members riding a cycle rickshaw in Nagpur.
NS: These West Indies teams are always very entertaining. Sobers, Kanhai, Hall were such memorable characters — and tremendous cricketers.
SS: Let me tell you a little story about Sobers batting against Wesley Hall. In 1958 at the Eden Gardens, on the day before the India-WI Test, I had gone with a couple of friends to watch the West Indies at the nets. Luckily, Sobers was batting against Hall and Gilchrist bowling very fast at him. He played them easily. Finishing his batting stint, Sobers left the nets and another left-handed bat, Peter Lashley took his place. Sobers was sitting behind the nets, removing his pads. Poor Lashley was badly troubled by Hall and was bowled a couple of times. Pads off, Sobers put on his gloves and walked back into the net to help Lashley. After some tips, Sobers asked Hall to bowl to him (Sobers) as he did to Lashley. There he was — facing a fearsome Hall and Gilchrist without pads. He had no problems at all and hit some powerful drives. I have never seen anything like that. When people talk of batsmen from the past batting without a helmet, my mind goes back to Sir Garry batting with just gloves against very fast bowling.
NS: Incredible!
SS: Growing up, did you play any cricket? How did you follow the game?
NS: I was always keen on the game and played wherever I could. I was an avid reader of a magazine called Sports & Pastime, which covered cricket from all over the world. I had a large collection of the magazine which came out of Madras. I learnt so much from S&P about films from South India and their huge stars from all the advertisements. Later, at the film institute, Tom (Alter) formed a club, the MCC, and I played in it. MCC was a play on the English club. Ours was the Match-cut Cricket Club, match-cut being a film editing technique.
SS: It's a good thing you became an actor, not a cricketer?
NS: Why is that?
SS: As a cricketer, you'd be retired. Fortunately for us, you can keep acting.
NS: I don't know if a cricket career could ever have been an option. Bishen Bedi, who is a good friend, would say that they were paid Rs.1000 per Test match played. What is more, if the match finished in 3 or 4 days, their payments would be reduced proportionately.
SS: The Rs 1000 payment was a big increment from earlier times. Let me tell you an amusing story. In 1962, I was living in Calcutta with my parents, when I was in college. Ramnath Kenny, who had also played in the Test when Jasu Patel took 14 wickets, was a good friend and also living and working in Calcutta. On the eve of the India-England Test, he said to me that three of his friends were coming to Calcutta to play in the Test. Could they stay at my house? Curiously, I asked who they were, and he said, Borde, Nadkarni and Ramakant Desai. They were playing for India, but were only given an allowance for board and lodging and Rs 250 to play the Test. What's more, they undertook a two-night train journey from Bombay in second-class. And they were representing the national side. That was shabby treatment indeed. In another shocking example of poor payment, on the 1952 tour of England, the India captain was asked to lunch by a local fan. Our poverty-stricken captain responded, "Lunch is fine, but I would rather have the cash." So many promising cricketers in India gave up playing because of the miserable payments. Not just Indian, but world cricket owes a debt of gratitude to two Indian administrators, Jagmohan Dalmia and Lalit Modi, for making cricket a rich sport. Dalmia was chairman of the ICC. He used his business acumen to build a sizable bank balance for the organisation at a time when cricket was struggling for survival. Lalit Modi took charge of the IPL and made it into a huge money-spinner. As a result, cricketers are very well paid now, and the game is now a career option. It might now border on the opulent, but it is better than the days of Rs 1000 paid for playing for one's country.
SS: What do you think of Kohli?
NS: I think he is a fantastic batsman, but I don't like him as a captain. I prefer Rahane as captain. Kohli is way too aggressive for a game like cricket. The use of strong language on the field is not pleasant. And it is infectious. The other day I saw one of our girl cricketers swearing on the field for the mic to pick up and broadcast. This is not a nice trend.
SS: In earlier times, our boys would swear at opponents as well. Solkar is said to regularly swear at opponents in Marathi, perhaps with a smile on his face.
NS: I can guess what he might have said.
NS: I have heard a lot about Fazal Mehmood. I know he came to India as Pakistan captain when there were many drawn games. What kind of a bowler was Fazal? Was he a spinner?
SS: Fazal was a fantastic fast bowler. He swung the new ball both ways and bowled cutters with the old ball. On Pakistan's first-ever tour of England, Fazal took twelve wickets in a Test match won by Pakistan. Fazal came to India in the 51-52 tour and played a big part in Pakistan, beating India at Lucknow. Fazal was perhaps the Pakistani equivalent of Alec Bedser, the famous England bowler. Fazal first played under AH Kardar, who was the kind of person that fits your description of Imran Khan.
SS: With the World Test Championship match starting this afternoon, how do you think the game will pan out?
NS: Look, both sides are strong and well-matched. But with New Zealand having played two Tests against England recently, I think they have the edge over us. Let's see.
SS: Thank you for this wonderful session on cricket. It has been an absolute pleasure. I also want to thank you very much for all the joy you have brought to us with your marvellous performances on both stage and screen. We look forward to many more of them.
Image credits: Getty, Twitter/Ajinkya Rahane